Pricing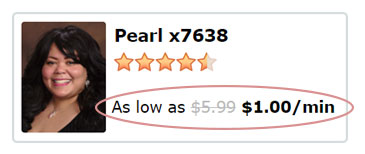 At Psychic Source, you'll always know what you're paying for your psychic reading. Whether on the website or on the phone service, the rates of our psychics are clearly marked and stated for your convenience and information. Here's an easy overview of how pricing works.
New Customer Introductory Offer
First-time customers have the opportunity to receive a special one-time only offer on their first purchase and can talk to most of the psychics in our community for as low as $1 per minute. Since this opportunity is available only once, new customers are encouraged to purchase the highest number of minutes available so they can take advantage of the introductory rate per minute in one long reading or as many shorter readings as the number of minutes purchased will allow. Use your introductory readings to build relationships with the gifted psychics here at Psychic Source.
Regular Pricing and Rates per Minute
After you've used your introductory offer, the regular rate per minute of the psychics you talk to will take effect. These rates start at $4.99 per minute depending on which psychic you've selected and how you are getting your reading; by phone, by online chat, or by online video. The rates per minute of the psychics in our community are clearly posted throughout the website, and you will hear the rate per minute before connecting to your psychic for a phone psychic reading.
Price Protection
Our new price protection program locks in the rate for your Advisor. How does it work? 
Once you have had a reading with a specific Advisor, and you continue to have readings with that Advisor every 30 days (Membership Rewards members get 45 days), we'll hold your rate for that Advisor. We'll also send you a reminder if your Advisor rate goes up so you can get a reading before their rate may change.
For example, if you had a reading with an Advisor on August 10th at the rate of $7.45 and that Advisors rate increases to $7.99 on August 20th, if you have another reading with that Advisor by September 9th, you will pay the rate of $7.45 per minute for that Advisor. 
Introductory and promotional rates do not apply. If your first reading with an Advisor was at an introductory rate, you will be able to lock in the current regular rate for that Advisor. 
Ways to Save on Your Psychic Readings
There are always opportunities to save on your psychic readings! Here's how:
Sign up to receive Promotional Offers and News by email by visiting Communications Preferences in your online account.
Visit the Special Offers section to see what offers are available to you when you purchase or get a psychic reading. More info.
Join our Membership Rewards Program and get 45 days of price protection. Also earn Bonus Dollars when you purchase and earn monthly rewards based on your readings. More info.