Special Offers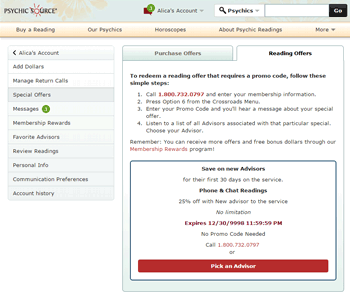 Special Offers from Psychic Source are a great way to add dollars to your account and save on readings. We offer several different types of special offers to our members:
Special Offers at time of purchase
Purchase offers give you extra value when you add dollars to your account via the phone or through our website. An example of a purchase offer is free bonus dollars (extra dollars added to your purchase) when you buy a special package.
Purchase offers may or may not require a promo code. If a promo code is required, simply enter the promo code and follow the instructions on the phone or online to process your order.
You must use a valid credit card, which will be charged the total amount you want to place on your account. If there are added bonus dollars, they will not be charged to your card. The bonus dollars will be reflected in the total number of dollars that will be available on your account, once you make your purchase.
Special Offers at the time of your reading
Reading (or usage) offers will give you added value at the time of your phone reading. An example of a reading offer is discounted Advisor rates per minute on all or a portion of your reading.
Reading offers may or may not require a promo code. To redeem a reading promo code, follow these simple steps:
Call 1.800.965.3049 and enter your membership information. You'll have an opportunity to enter a promo code right after you hear your current account balance, or you can press Option 6 from the Crossroads Menu.
Enter your Promo Code and you'll hear a message about your special offer.
Listen to a list of all Advisors associated with that particular special. Choose your Advisor.
Combination offers
We're always coming up with new types of offers, because we want you to find the promotions that are just right for you. Here are a few combinations that we sometimes offer:
Add & Save

Add a specific number of dollars to your account and get a discount on a reading the same day.

Talk Today, Save Tomorrow

Get a discount on a future reading when you have a reading today.
Getting notified about special offers
You can get notified about special offers by email, text, or regular mail. Sign up online by updating your "Communication Preferences" preferences in your account, or call Customer Care at 1.800.965.3049. You can unsubscribe to notifications at any time online or by calling Customer Care.
Promo codes
A promo code has four or five digits or letters and is used to apply exclusive offers or other special rates to your purchase.
You must be an existing member to redeem a Promo Code on a reading.
If you receive a Psychic Source offer that states "no Promo Code needed," you'll be able to receive the discount when you get a reading or add dollars to your account, automatically. The discounted Advisor rates and package prices will be reflected on the website, when you are logged in to your account. When you call for your reading, you'll also hear a message about the discount.